It's the second week of September, and ewes are sorted, ready for getting to their blocks for lambing.
Winter Spray Effects
In our last blog, winter spraying of the lucerne paddocks was discussed, and we thought it appropriate to follow up with the spray effects.  It has been about 9 weeks since the first paddocks were sprayed, and only 6 weeks since the last of the paddocks were sprayed.
Some of the paddocks were treated with a product called 'Zeal', or 'Metsulphuron', at a rate of 30 gm/ha, for Horehound – a weed that has started becoming more of a problem at Bog Roy, in that its seed head causes contamination in the merino wool, resulting in the contaminated wool being removed from the fleece and thus heavily discounted.  Infact, over 30 ha on the hill around stock camp areas was sprayed this year via helicopter, along with 2 lucerne paddocks: 'Bottom David's' and 'Wheatgrass' – the start of our 'Horehound Eradication Programme'.
Table 1: Chemical Applications in Top and Bottom David's
Paddock
Chemicals Applied
Date
Top David's
Paraquat @ 2.4 L/ha
Terb 500 @ 1.5 kg/ha
5th July
Bottom David's
Paraquat @ 1.2 L/ha
Metsulfuron @ 30 gm/ha
5th July
We were advised that we would need to be prepared to accept losing the first grazing from the 2 lucerne paddocks, and not to expect any real recovery until early November (about 4 months post spray application).  This advice is proving exactly right, and Photo 1 shows this, with Top Davids already over 12 cm in height, whereas Bottom Davids has hardly any growth at all – and looks terrible! Infact, we plan to continue to montitor these paddocks, and will keep you updated how they recover.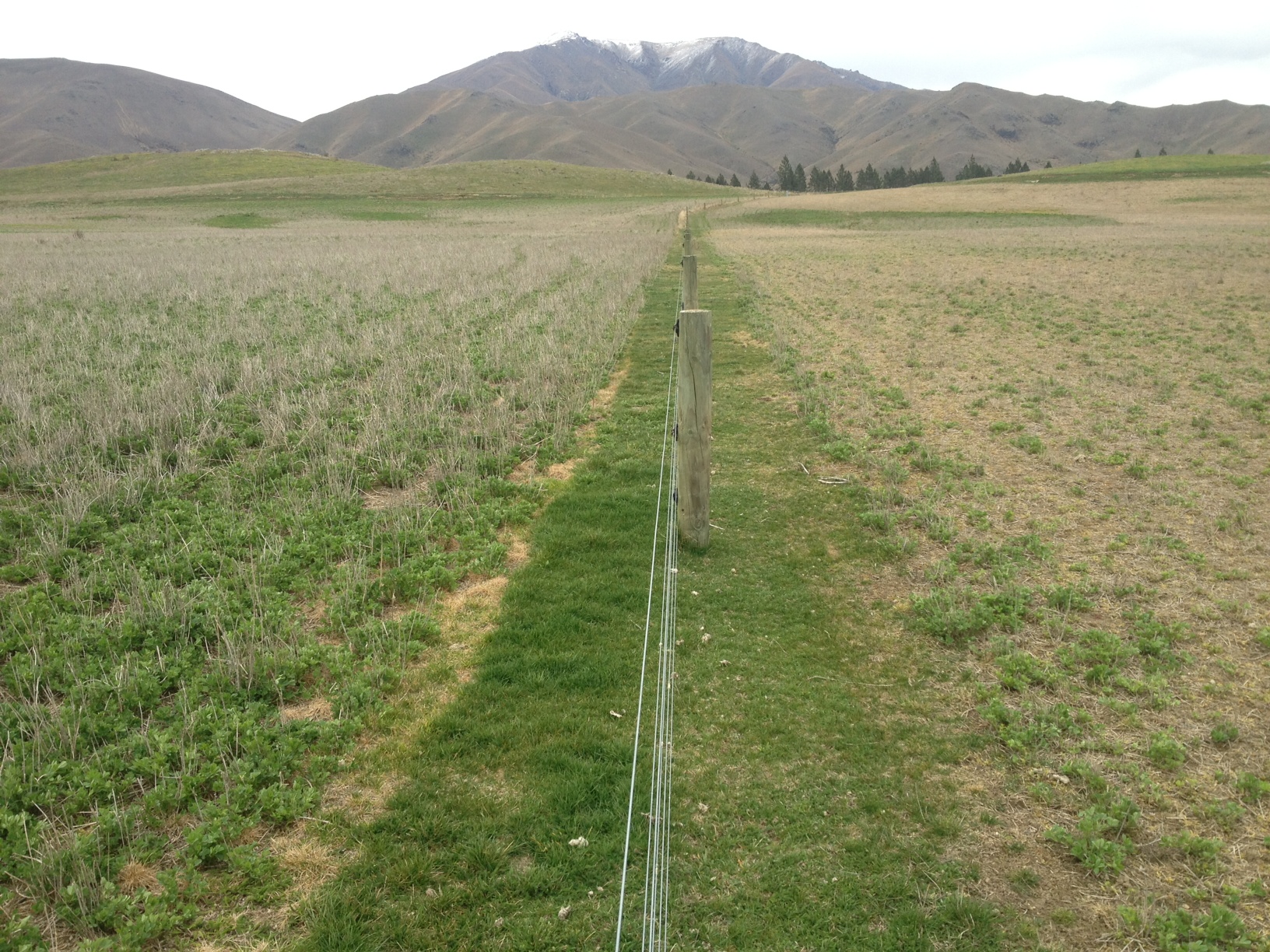 Lambing onto Lucerne
All the ewes were scanned immediately after shearing this year, back on the 11th August, and for the first time at Bog Roy, early, mid and late lambers have been identified.
Some of the early lambing twin ewes will be set-stocked onto lucerne this week, and the lucerne is on track to be 15 cm high.  Like the Avery's at Bonaveree, lambing is the only time of the year when set-stocking occurs on Bog Roy, let alone on lucerne, but at low stocking rates of 7-9 su/ha, and this year for only 3 weeks (just to reclarify: stocking rate is 7-9 ewes per hectare – lambs are not included until after mobbing up, i.e. in a 5 ha paddock there will be about 35 ewes, plus lambs).
The length of time the ewes will be set stocked will be reduced markedly this year by scanning the early, mids and lates, and lambing these mobs separately.  Compared to last year, where the lambing period lasted for almost 6 weeks, having scanned out the Early's means lambing will only last about 3 weeks.
After the 3 weeks, the ewes and lambs get mobbed up and start their rotational grazing around the rest of the lucerne paddocks.  Gundy is confident that being able to mob these ewes up and start the rotation earlier will prevent the lucerne from getting away on us as it has tended to do in the past.
Shearing Paddock
This area is what Prof Derrick Moot refers to as 'Landscape Farming', due to the lucerne being drilled into the better soils throughout the gullies.  The end result is lucerne growing prolifically in the gullies with briar remaining on the knobs – a perfect combination of shelter and feed for lambing.  This scenario is ideal for lamb survival, as research carried out in Australia has shown that for every 5 metres a merino ewe has to move away from her lamb in the first 5-6 hours post birth equals 5% less lambs.  Scary figures to consider in what was our 'traditional' lambing country.
Spring Lucerne Management
 As mentioned above, the lucerne is about 10-15 cm high at the moment, and is expected to all be at 15 cm by the time the ewes are set stocked for lambing.  Experience from last year is that if the lucerne is this high, it will keep growing ahead of the ewes when stocked at 7-9 su/ha.
Interestingly, we have had many people comment on how much earlier the growth is this season…at Bog Roy the lucerne is exactly the same height as it has been the past 2 previous seasons at exactly the same time…
The ewe hogget's have just begun a brief grazing rotation around the lucerne paddocks that will later on (mid October) be grazed by ewes and lambs.  This will help to keep the lucerne at an optimum height, between 30-35 cm.  In the past, having not scanned into conception groups had meant we would have to wait until ALL the ewes had finished lambing before being able to mob up and start rotational grazing.  This would be about the beginning of November, whereas this year we will begin mobbing up in the second week of October.  The later start date used to mean that the lucerne was often much higher than ideal – often up to 60cm – resulting in a lot of wastage at the base of the stand.
So in summary, height measuring pre and post grazing, along with the cage cut data, has highlighted the wasted feed due to the lucerne getting too high before grazing begun, and thus the reasoning for changes in management this season.
Ryecorn Paddocks (Taff's Corner)
The Ryecorn crops have proven to be invaluable at Bog Roy this season, especially for the twin ewes – all receiving green feed.  It has also enabled the 2ths to be looked after better than before.
The crop has essentially plugged a gap in the growing season – where everything else is still coming away, the Ryecorn has been abundant in quantity, and providing feed to quite a few ewes (see Table 2) – enough for about  2900 ewes for 3-4 weeks.
Table 2: Ryecorn Paddocks, with pre-lamb grazing information (ewes were also fed silage and barley).
| | | | |
| --- | --- | --- | --- |
| Paddock | Hectares | Number of Ewes | Time Grazed |
| Taff's Corner | 20 ha (out of a total of 33 ha) | 1230 | 4 weeks |
| Baleage 1 | 9 ha | 860 | 3 weeks |
| Dog Flat Paddock | 7.5 ha | 800 | 3 weeks |
This allowed the rest of the property to be destocked for about a month prior to lambing – resulting in all the lambing blocks have a fresh pick – and thus ensuring more feed on the hill country going into lambing.  Gundy would like to have at least 60 ha of Ryecorn next season to allow all the hogget's to get green feed as well for post-shearing.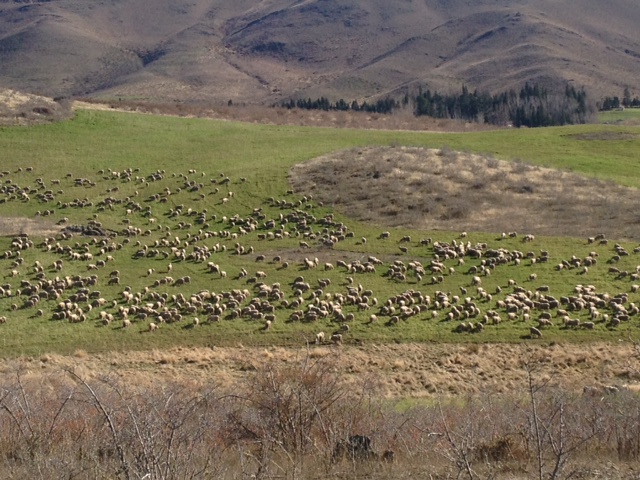 While Taff's Corner and Baleage 1 are heading into another season of Ryecorn, the Dog Paddock Flat is going into Lucerne later on this year.  All of the paddocks will be getting sprayed out in early-mid October – which will coincide with the rest of the lucerne starting to hit it's straps – thus won't be missed at all.  They will be left to fallow, sprayed again if necessary, ready for drilling their next crops in December.