Posted on behalf of Prof. Derrick Moot
This grazing management is based on new research out of Lincoln University. It is recommended ONLY for farmers with a large proportion (>40%) of their properties in lucerne who require greater areas to lamb on in early spring and who already follow the optimum rotational grazing management system advocated by Prof. Moot and Lincoln University's Dryland Pastures Research Team.
After 15 years telling people never to set stock on lucerne Prof. Moot has mellowed (…slightly). The rules for set stocking lucerne outlined below must be followed. Failure of farmers/managers to follow these guidelines may result in killing your lucerne stand within 2 years. Deviations from the guidelines are at your own risk.
Planning for spring set stocking happens in early autumn
Preparation and planning to implement a set stocking phase in early spring is essential to the success of this grazing management strategy. If considering set stocking next spring – planning should begin in early autumn. Do not make a last minute decision prior to lambing.
If the guidelines are not applied appropriately this short period of spring set stocking management will reduce the life span of your lucerne stand. After tailing it is important to return to a standard 6-paddock rotational grazing system to minimise the detrimental effects on the long term persistence of your lucerne stand.
Set stocking should not exceed 4-5 weeks in duration before returning to the optimal rotational grazing system.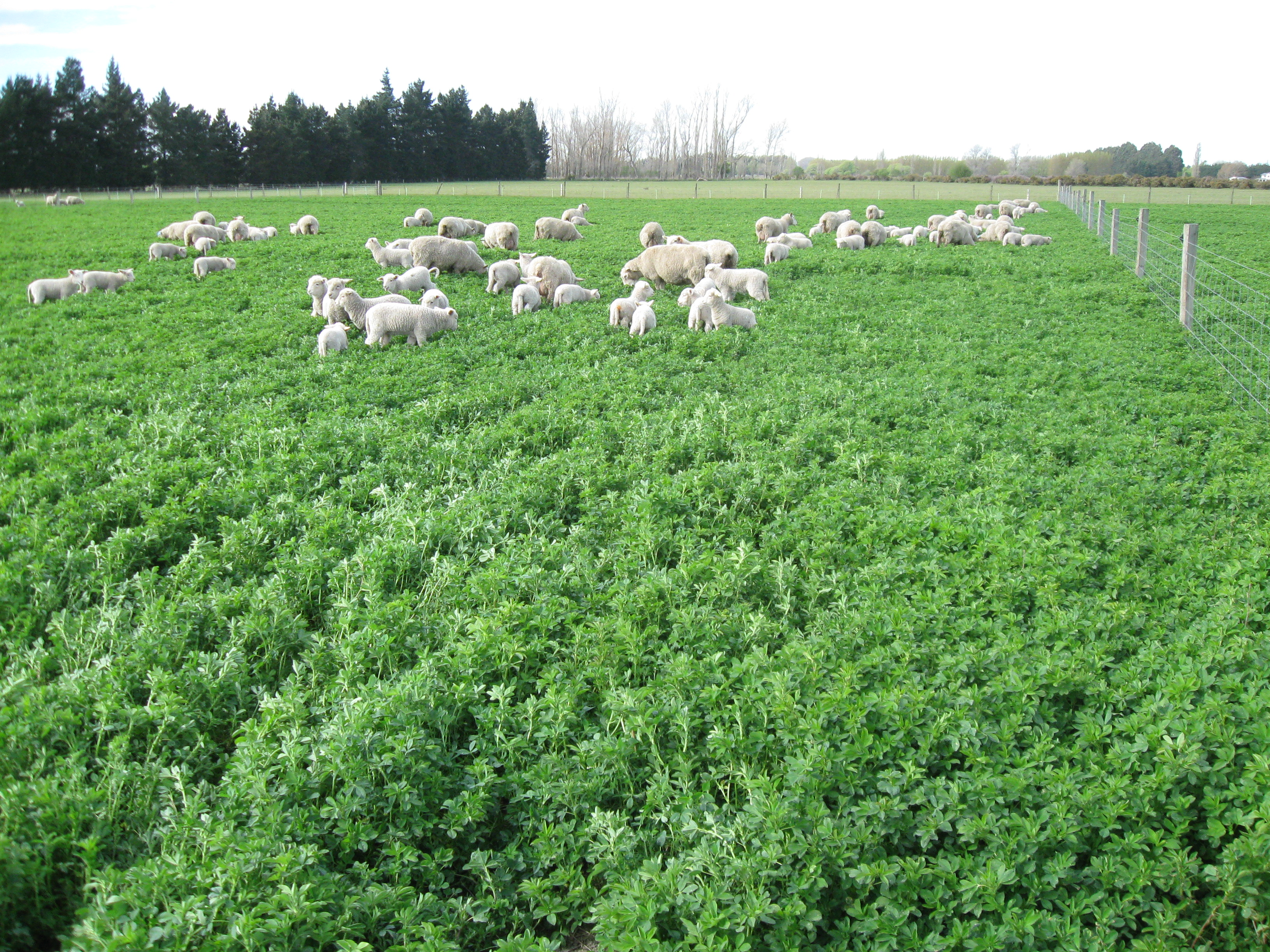 Keeping the canopy closed in spring is crucial. Understanding the reasons for the strict rotational management guidelines prior to investigating set stocking lucerne is critical to prevent failure. It is important to understand how lucerne grows and its responses and behaviour to the grazing management strategies imposed and the environment it is grown in. A failure to understand the behaviour of the lucerne plant means you risk treating your lucerne like a grass based pasture – when this happens the system will fail.
An open canopy and high nitrogen returns from urine will allow problematic, hard to control, perennial weeds such as wireweed (Polygonum aviculare), horehound (Marrubium vulgare), twitch (Elytrigia repens), dandelion (Taraxacum officinale), yarrow (Achillea millefolium) and Californian thistle (Cirsium arvense) to invade the gaps in the stand. The presence of these species are important identifiers which indicate the lucerne stand is coming to the end of its productive life and pasture renewal should be scheduled. This will be hastened by an open canopy in spring. If feed supply is diminishing over time, and the canopy opening, then the stocking rate should be reduced.
If attempting set stocking for the first time on your lucerne follow the rules set out below to ensure you don' compromise the long term productivity and persistence of your dryland system.
The Rules for set stocking lucerne
in the period from lambing to tailing
Only do this once you have been managing lucerne grazing in pure swards for a few years so you know how it grows.
Determine which paddocks you will lamb on early in the autumn – those with shelter and that are older- and make sure they receive the earliest clean-up graze and winter herbicide application. Lucerne/grass mixes can also be used – or those with some grass around their edges that offer a transition from winter feed or pasture onto the straight lucerne stands that follow.
In a 6-paddock system set stocking will occur on no more than 2 paddocks before animals are mobbed up and begin rotational grazing from Paddock 3 on-wards for the rest of the growing season.
Use a different 'start paddock" each year so the effects are spread over the lucerne area – do not choose the same paddock to set stock every year unless you are prepared for renewal (sacrifice lucerne stand or a runout paddock)
Sort ewes into early and late lambing mobs so you have a condensed lambing period in the mob (one cycle not two).
Drift ewes onto the lucerne about two weeks prior to lambing – Lucerne must be at least 15-20 cm tall at the start of grazing (which is why the time of autumn clean-up graze and herbicide use are important).
Initially stock at a low rate of about 7 ewes and twin lambs per hectare – i.e. about half the rotational grazing rate.
Allow set stocking for only 4-5 weeks in total during early spring and then mob up the animals and start rotating around the paddocks that have not been set stocked
Set stocked lambs will use the taller feed as shelter and mis-mothering once you start rotational grazing is rare.
THE KEY POINT IS THAT THE STOCKING RATE MUST ALLOW THE LUCERNE TO MAINTAIN A CLOSED CANOPY AND GET TALLER NOT SHORTER OVER THE 4-5 WEEK PERIOD. THE CANOPY MUST BE CLOSED OVER AND ABOUT 20 CM TALL AT ALL TIMES. IF YOU BEGIN TO EAT INTO THE CANOPY SO IT GETS SHORTER THEN YOU WILL COMPROMISE THE LONGEVITY OF THS STAND AND END UP WITH MANY DIFFICULT WEEDS SUCH AS TWITCH, YARROW AND DANDELIONS. If you notice stand height decreasing reduce the stocking rate immediately. To check this look down into the stand. If you can see bare ground that's where the weeds will grow!
Having used some of the paddocks for lambing, make sure they get the chance for an extended period of autumn growth (6 weeks) to re-charge the underground reserves used up during that set stocking period.
Based on this set of rules a paddock could be used for lambing.
These rules have been used successfully by some farmers over the last few years. The role of set stocking on lucerne is currently being tested under a Beef+Lamb New Zealand funded project (Phase II of the Pastoral 21 research program) at Lincoln University's Ashley Dene Research Farm in Canterbury.
Pastoral 21
"This work was undertaken as part of Phase II of the Pastoral 21 Programme, funded by the Ministry for Business, Innovation & Employment; DairyNZ; Beef + Lamb NZ; and Fonterra."