Planning for your autumn sown annual clover based permanent pastures
Order early
Although it may seem a bit early to some people we thought it timely to put a reminder out for our dryland farmers to get their annual clover seed orders in to their local seed suppliers.
Placing your seed orders now (before 1 Dec) will ensure you can access the required amount of annual legume seed for autumn sowings as your suppliers will have a better idea of the upcoming demand. This is particularly important for sub, balansa, arrowleaf and Persian clovers which have to be imported from Australia.
These annual clovers originate from Mediterranean environments prone to summer water stress – they want to germinate from seed in autumn after break rains arrive and to get the full benefit of high yields of good quality legume in spring they need to be sown in autumn. (Note: this differs from lucerne which we recommend sowing in spring).
Clover choice is very important for success with annuals because there are large differences between cultivars. For instance mid flowering sub clovers such as 'Woogenellup' or 'Narrikup' are suitable for drier areas with regular long summer drought while 'Denmark' is more suitable for areas with shorter dry seasons.
Run-out pastures should have been sprayed out by now to create a fallow which will allow earlier autumn sowings than if relying purely on autumn break rains. Ensure adequate weed control through summer so that your conserved soil water isn't depleted by weeds.
After the recent New Zealand's Grassland Association conference we thought it would also be timely to suggest some sub clover mixes for dryland and hill country areas based on the typical duration of summer drought. Mixtures of sub clover cultivars with complementary characteristics are strongly recommended so that variations in climate, topography and soil depth within a paddock are covered.
So:
5-6 month summer dry use 5 kg/ha 'Woogenellup' + 5 kg/ha 'Narrikup'
4 month dry 5 kg/ha 'Denmark' + 5 kg/ha 'Narrikup'
3 month dry 5 kg/ha 'Denmark' + 5 kg/ha 'Leura'
Wet soils – add 5 kg/ha 'Monti' or 'Napier'
Early spring feed add 5 kg/ha 'Antas' and or 'Woogenellup'
Note: Rates are bare seed equivalent (so adjust if using coated seed)
If 'Leura' is not available try one of the hardseeded newer cultivars such as 'Rosabrook' or 'Coolamon' but insist on the inclusion of a soft seeded cultivar such as 'Denmark' as at least half of the sub clover mix.
Ensure seed is inoculated especially if sowing in a paddock with no previous history of annual clovers (it's all about high quality feed and nitrogen fixation).
Options for inclusion with your base sub clover mixes for a productive, persistent and high quality pasture will depend on your environment.
In moister regions use 8 kg/ha perennial ryegrass (AR37 if needed)
In drier regions/areas use 2 kg/ha of cocksfoot (slower establishing but more persistent in the dry)
For innovators – don't sown a grass as a companion species – use x 2 kg/ha of plantain &/or 1 kg/ha chicory. Note that herbicide control of broadleaf weeds is difficult in herb/clover mixtures but grass weeds can be controlled in those clover friendly pastures.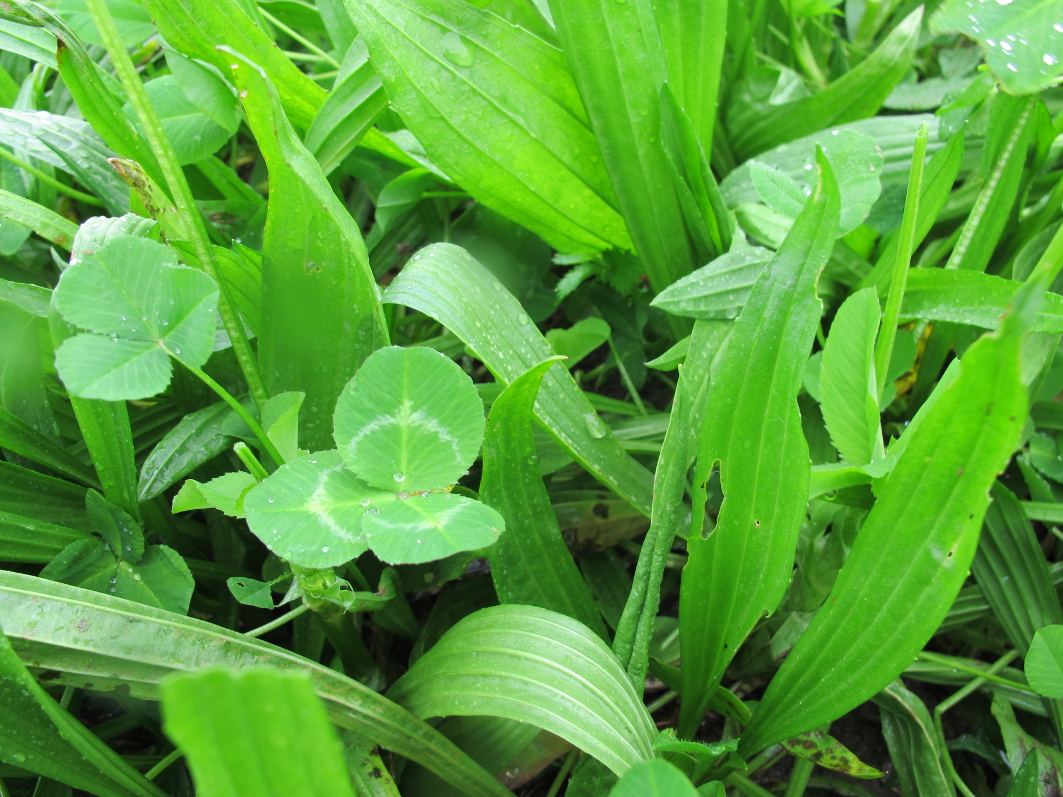 Closeup of a clover/herb pasture on 2 Sept 2015 in Wairarapa. Photo supplied by Carmen Teixeira, Lincoln University.
More information? Check out our latest paper here: Selection of sub clover cultivars for New Zealand dryland pastures