Doug and Fraser Avery have kindly agreed to let us visit their property on a regular basis to report on what is happening on Bonavaree throughout the farming calendar. Initially Doug has selected three paddocks for us to use in this blog, but flexibility is key to farming successfully in a dryland environment, and so to is this blogging process, so we may report on other interesting activities throughout the year… watch this space! Anything that we think is useful to dryland farmers will be reported here with commentary captured and reported from Doug and Fraser Avery.
The 3 paddocks selected are as follows: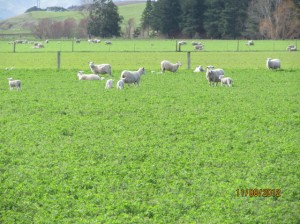 1. Jeffries Front Flat: this paddock is a pure stand of Torlesse Lucerne. It was sown in 2011, and is 3.2 ha. It has great shelter (mature Macrocarpa and Eucalypts) on the southern and eastern boundaries, with Grassmere Rd skirting the Eastern side. It is a paddock which performs well, and has been used within a large lucerne based grazing system successfully since establishment.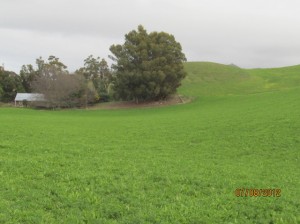 2. Glen Erin House Paddock: this paddock is a Bonavaree mix (Lucerne, Prairie Grass, and Plantain). The paddock is relatively young, only sown in Autumn 2011, but is already proving itself to be a top performer! The Bonavaree mix really suits the Avery's system (please have a look at Fraser's presentation at the recent Dryland Legume Workshop held in Blenheim, which shows the specifics of this paddock mix). This paddock is 6 ha, and is again a paddock with great shelter (native and exotic plantings), as well as having shelter from the hills. This mixed sward is such a success the Avery's have plans to sow another 50 ha of it, increasing the total grazed area of the Bonavaree mix to 130 ha.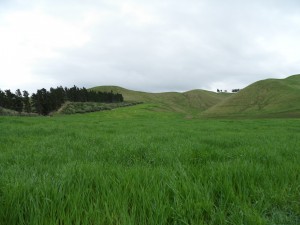 3. North Face: This paddock is currently sown in Omaka Barley, but will be established as a Lucerne, prairie, plantain paddock in the spring. We will follow this paddock through and document the renovation process. Omaka Barley is commonly used at Bonavaree as it is a great performer in dryland Marlborough, and forms a great break crop before establishing lucerne, or lucerne mixed paddocks. North Face is 2.9ha, and was sown in October 2011.
Our blog will be a mixture of photos, video, and commentary from Doug and Fraser. Please check back regularly, or subscribe to ensure you are kept up to date with regular blog updates from Bonavaree.