This Omaka Barley Paddock is still managing to supply a good quantity of feed to the lambing hoggets when I visited on September 14th. The pasture height was between 30-32 cm in height (see photo below). The quality of the pasture has declined now that the Barley is starting to go into reproductive (seeding) phase. The amount of stem in the pasture has increased from my last visit (also visible in photo below), which decreases the Metabolisable Energy (ME) and palatability of the feed. However, Fraser has kept the stocking rate of the lambing hoggets low, to enable them to select a higher ME diet from what is on offer. As a rule lambing hogget stocking rates are kept low to enable the inexperienced dams to mother up properly without too much pressure from the rest of the mob. The stocking rate here is approximately 8 hoggets/ha . The hogget liveweight prior to lambing was 60 kg, with a target lambing date of early September. The ram breeds used over the hoggets at Bonavaree are Highlander and Primera.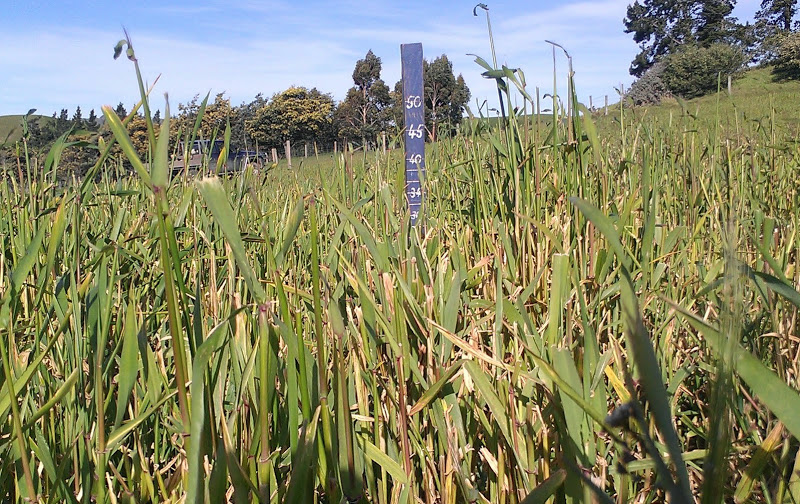 This paddock is destined to go into a Bonavaree mix  and would usually be sprayed out by now. But the weather has put a hold on this due to the windy conditions. Bonavaree has certainly felt the brunt of the spring equinox! So the plan for this paddock is as follows:
Keep this mob of hoggets on till the end of the week (21st September).
Put a mob of cattle on to graze it down hard.
Let it freshen up (regrow) again.
Spray it out ready to fallow over summer.
The spray mix that Fraser is using for this paddock differs slightly this year. Usually a Glyphosate and Granstar mix is used. But this year Fraser will be using a Glyphosate 360 (4 L/ha), and Sharpen (25 g/ha) mix. The Sharpen chemical contains 700 g/kg Saflufenacil, and is relatively new to the NZ market. Fraser has chosen this chemical due to BASF's claim to control mallow. An adjuvant will also be added to the spray mix.
Soil tests have been taken and will be reported within the next blog.