Posted on behalf of the Horehound Biocontrol Group
Greetings everyone,
Following five months of patient waiting, we finally heard last week that our efforts have paid off – the application to MPI's Sustainable Farming Fund (SFF) to fund a biocontrol programme against horehound has been approved! Subject to some paperwork and contracting, the funding will be made available from July 1st – it will be here before we know it… I'd like to take this opportunity to thank you all – the broad support base this project has from all of you provides the solid foundation that enabled this successful outcome – we could not have got this far without you!
Note that the funding from the SFF is conditional on our ability to demonstrate financial commitment from our stakeholders. And so, shortly we will be chasing up those of you who have generously agreed to provide some co-funding, and will ask for confirmation letters to be signed. This co-funding contribution makes up nearly 30% of the total cash associated with the project, which is significant, and would have made an important factor in securing the application's success. While the confirmation letter is required now, the actual contribution will only be asked for in July. Every farmer I (Snow) have talked to has been keen to see some long term sustainable method for controlling horehound, therefore a modest one-off contribution, spread across many farmers, is not too much to ask for in the coming months.
What is the plan?
Firstly, we'd like to let you know that while we were patiently waiting to find out the outcome of the application, some work has already started in the background. A student intern from Birmingham University, Anna Pittam, has established the first transects and survey plots for long-term monitoring of horehound population dynamics.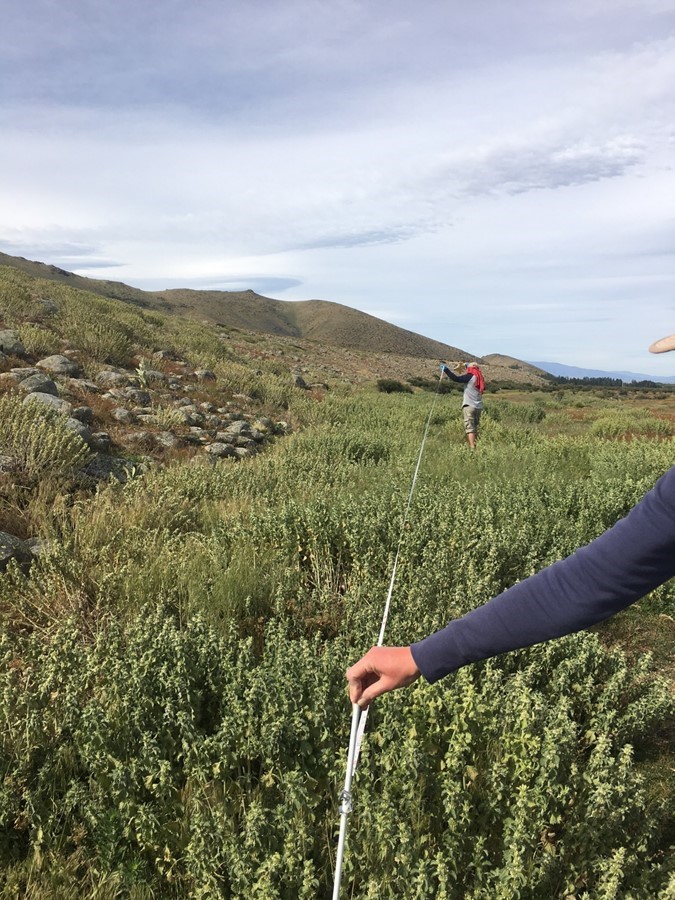 The idea is to get a measure of how quickly horehound is spreading under current farm management regimes, and later we will be able to demonstrate how biocontrol changes this trend. It is tedious work, and Anna has been (and still is) meticulously going about it. It was important to start now, because we need multiple seasons' data to get an intelligible estimate of how horehound is doing and, all working to plan, we may not have the 'luxury' of that many seasons free of biocontrol to provide the 'before' estimates… We are fortunate to have a great student such as Anna on the job as early as now! We are anticipating students from the same exchange programme to continue this monitoring work in future years.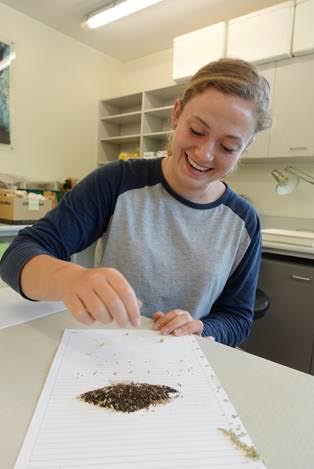 Come July 1st, and the paperwork is signed, the very first item on the application programme is a feasibility study. A feasibility study is the first stage of any biocontrol programme under current best practice, and it's role is to do exactly that – assess the feasibility of the specific biocontrol programme before embarking on the more serious spending involved in introducing biocontrol agents. It is a desktop exercise, where we consult the literature and other experts about whether the weed in question is a good target for biocontrol (not all weeds are!), whether there are known candidate biocontrol agents (we already know about a couple in use in Australia, but are there others?), are there likely to be any interest groups who may oppose the biocontrol programme?, etc.
The feasibility study has been set in our application as a Stop/Go point. This means that the recommendations made in the feasibility study will determine whether the full programme gets the greenlight to proceed.
That's it for now. The next update is likely to come in a few months' time, when the project has fully kicked in and the feasibility study completed.
In the meantime, if you have any questions please don't hesitate to contact either myself (Ronny, Email: groentemanr@landcareresearch.co.nz) or Gavin (Snow, Email: sawdon@lupins.nz).
Thanks!
Ronny
All blog posts and reports associated with this programme are now listed on the Horehound BioControl page.